Each month, the programmers at the Criterion Channel produce incredible line-ups for their subscribers. For December, the Channel will feature films from Douglas Sirk, Derek Jarman, Robert Siodmak, and more!
Below you'll find the programming schedule for the month, along with a complete list of titles that Criterion has in store for us. Don't forget to check the Criterion Channel's main page regularly though, as they occasionally will drop surprises that aren't included in the official press release.
Don't subscribe yet? Start a 14-day free trial
All Programs Premiering February 1 Unless Noted Otherwise
TOP STORIES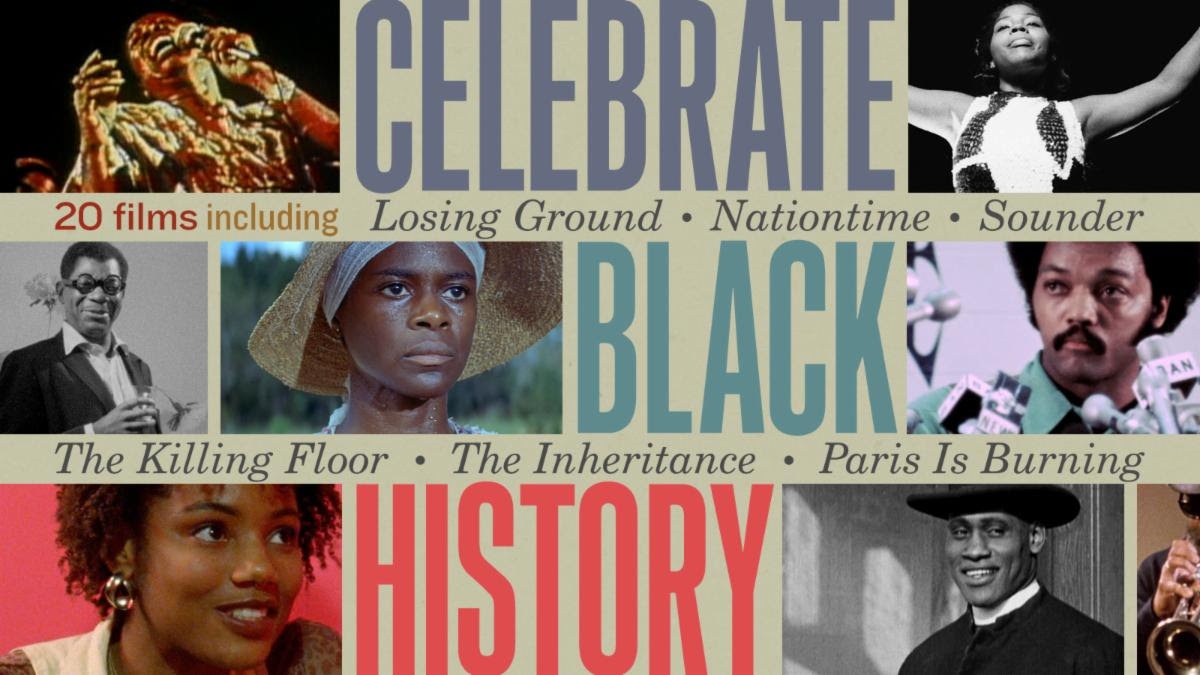 Celebrate Black History
The story of Black Americans is, in many ways, the story of America itself. Though the African American experience has long been relegated to the margins of the big screen, a vital cinematic legacy endures thanks to the work of pioneers like William Greaves (Nationtime), Michelle Parkerson (… But Then, She's Betty Carter), Kathleen Collins (Losing Ground), Bill Duke (The Killing Floor), and Charles Burnett (The Final Insult), as well as bracing contemporary voices like Garrett Bradley (America) and Ephraim Asili (The Inheritance). Their stories of revolution, resistance, creativity, community, and everyday endurance offer a multifaceted vision of Black American identity across generations.
Features
Portrait of Jason, Shirley Clarke, 1967
Nationtime, William Greaves, 1972
Sounder, Martin Ritt, 1972
A Dream Is What You Wake Up From, Larry Bullard and Carolyn Johnson, 1978
… But Then, She's Betty Carter, Michelle Parkerson, 1980
Remnants of the Watts Festival, Ulysses Jenkins, 1980
Imagine the Sound, Ron Mann, 1981
Losing Ground, Kathleen Collins, 1982
Say Amen, Somebody, George Nierenberg, 1982
The Killing Floor, Bill Duke, 1984
Paris Is Burning, Jennie Livingston, 1990
The Final Insult, Charles Burnett, 1997
still/here, Christopher Harris, 2000
The Inheritance, Ephraim Asili, 2020
Shorts
Black Panthers, Agnès Varda, 1968
Paul Robeson: Tribute to an Artist, Saul J. Turrell, 1979
Fannie's Film, Fronza Woods, 1981
Suzanne, Suzanne, Camille Billops and James Hatch, 1982
We Demand, Kevin Jerome Everson and Claudrena N. Harold, 2016
America, Garrett Bradley, 2019

All You Need Is Love
Sometimes all it takes to restore your faith in humanity is a simple, good-old-fashioned love story. Refreshingly free of cynicism, these unabashedly starry-eyed tales of all-consuming passion and sweep-you-off-your-feet romance are sexy, sweet, and maybe even a little sappy—just the way a good love affair should be. From romantic-comedy charmers (City Lights, The Lady Eve) to rapturous art-house reveries (Boy Meets Girl, Wings of Desire) to swooning expressions of queer desire (Desert Hearts, Happy Together), these are the intoxicating all-timers that make us fall in love with love.
City Lights, Charles Chaplin, 1931
It Happened One Night, Frank Capra, 1934
L'Atalante, Jean Vigo, 1934
History Is Made at Night, Frank Borzage, 1937
The Lady Eve, Preston Sturges, 1941
I Know Where I'm Going!, Michael Powell and Emeric Pressburger, 1945
The Passionate Friends, David Lean, 1949
Summertime, David Lean, 1955
Pillow Talk, Michael Gordon, 1959
Breathless, Jean-Luc Godard, 1960
The Umbrellas of Cherbourg, Jacques Demy, 1964
Stolen Kisses, François Truffaut, 1968
Cane River, Horace Jenkins, 1982
Tootsie, Sydney Pollack, 1982
Boy Meets Girl, Leos Carax, 1984
Desert Hearts, Donna Deitch, 1985
A Room with a View, James Ivory, 1986
Wings of Desire, Wim Wenders, 1987
Mississippi Masala, Mira Nair, 1991
Chungking Express, Wong Kar Wai, 1994
The Incredibly True Adventure of Two Girls in Love, Maria Maggenti, 1995
Happy Together, Wong Kar Wai, 1997
Weekend, Andrew Haigh, 2011
Monday, February 13

James Baldwin On-Screen
Towering literary lion, fierce social critic, and inimitable cultural icon James Baldwin opened up a new space for the frank discussion of race, sexuality, and identity in American society. He also left behind a dynamic cinematic legacy, as seen in these portraits that capture his electrifying presence, passionate eloquence, and incisive commentary on everything from art to religion to love to liberation to his most personal experiences as a gay Black man who lived much of his life abroad but who never stopped examining his own complex relationship to the United States. This collection also includes Go Tell It on the Mountain, a star-studded television film based on Baldwin's first novel, one of the few screen adaptations of his fiction.
Features
Go Tell It on the Mountain, Stan Lathan, 1985
James Baldwin: The Price of the Ticket, Karen Thorsen, 1989
I Am Not Your Negro, Raoul Peck, 2016
Shorts
Baldwin's Nigger, Horace Ové, 1968
Meeting the Man: James Baldwin in Paris, Terence Dixon, 1970
James Baldwin: From Another Place, Sedat Pakay, 1973

Queer Britannia: A Derek Jarman Retrospective
Featuring an introduction by critic Alonso Duralde
A cinematic renegade who became an essential voice of protest against Thatcher-era repression, visionary British iconoclast Derek Jarman left behind a legacy of astonishing films that give defiant expression to gay desire, anguish, rage, and humanity. Ranging from lush, boldly conceived biographies of queer historical figures such as Caravaggio and Edward II to searing, formally radical experimental works like The Last of England and Blue, in which he confronted both the decline of Britain and his own mortality in the wake of an AIDS diagnosis, Jarman's films comprise one of the most uncompromising and fearlessly personal oeuvres in all of cinema.
Sebastiane, 1976
Jubilee, 1978
The Tempest, 1979
The Angelic Conversation, 1985
Caravaggio, 1986
The Last of England, 1987
War Requiem, 1989
The Garden, 1990
Edward II, 1991
Wittgenstein, 1993
Blue, 1993
Glitterbug, 1994

Oscar Micheaux: Trailblazer
A pioneering American writer, director, and producer whose films are among the boldest of the silent and early sound eras, independent auteur Oscar Micheaux gave Black audiences a reflection of their own experiences crafted with a complexity and seriousness that stood in stark contrast to the racist stereotypes propagated by his contemporary D. W. Griffith and the nascent Hollywood studio system. Tackling issues of race relations, systemic injustice, and the struggles of Black Americans striving for better lives with both stirring power and a showman's sense of spectacle, these films—including the bold exposé of racist violence Within Our Gates; Body and Soul, a potent critique of religious hypocrisy starring the great Paul Robeson; and the subversive detective mystery Murder in Harlem, presented here in a major new restoration—offer a vital counter-history of American cinema, one with the Black experience at its fore.
Within Our Gates, 1920
The Symbol of the Unconquered: A Story of the Ku Klux Klan, 1920
Body and Soul, 1925
The Darktown Revue, 1931
The Exile, 1931
The Girl from Chicago, 1932
Ten Minutes to Live, 1932
Veiled Aristocrats, 1932
Murder in Harlem, 1935
Birthright, 1938

Douglas Sirk Rarities
Though best known for the subversive, extravagantly stylized color melodramas he directed in the 1950s, Douglas Sirk's brilliance was not limited to his work in Technicolor, as seen in these equally rich, relatively unsung black-and-white gems made during the same period. Featuring a moody mystery set in a nunnery (Thunder on the Hill), a pair of bold anti–family values melodramas starring the formidable Barbara Stanwyck (All I Desire, There's Always Tomorrow), and an expressionistically sordid portrait of death-chasing stunt fliers (The Tarnished Angels), these Sirk deep cuts display the intricate mise-en-scène and slashing irony that define the filmmaker's finest work.
Thunder on the Hill, 1951
All I Desire, 1953
There's Always Tomorrow, 1956
The Tarnished Angels, 1957

Robert Siodmak: Four Key Noirs
Along with fellow European émigrés like Fritz Lang and Billy Wilder, German-born Robert Siodmak was instrumental in importing the expressionist visual style and hard-bitten existentialist sensibility that would define Hollywood film noir, arguably creating more classics of the genre than any other director. His moody, shadow-etched compositions and flair for the fatalistic are on full display in this selection of some of his finest, including Phantom Lady, his dreamlike first noir and a fascinating protofeminist example of the genre, and The Killers and Criss Cross, a pair of bleak, twisty pulp masterpieces starring Burt Lancaster.
Phantom Lady, 1944
The Suspect, 1944
The Killers, 1946
Criss Cross, 1949
Exclusive Streaming Premieres

On-Gaku: Our Sound
When you're a bored teenager looking for thrills, sometimes the only thing you can turn to is rock 'n' roll. With no skills, money, or even a full set of drums, a feared trio of high-school delinquents nevertheless decide they are destined for musical glory in a quest to impress their only friend, avoid a rival gang, and—most importantly—jam out. Animated almost entirely by director Kenji Iwaisawa, and featuring a lead performance by Japanese alt-rock legend Shintaro Sakamoto, On-Gaku: Our Sound brings its own sound and vision to the beloved underground manga by Hiroyuki Ohashi from which it was adapted. With pitch-perfect deadpan humor, the film offers a highly original take on the beloved slacker comedy: a lo-fi buddy film with a blaring musical finale that will leave you wanting an immediate encore.

The Velvet Queen
A breathtaking journey into the heart of the Tibetan highlands, The Velvet Queen follows renowned nature photographer Vincent Munier as he guides writer Sylvain Tesson on his quest to document the infamously elusive snow leopard. Munier introduces his companion to the subtle art of tracking animals—how to wait from a blind spot and summon the patience to catch sight of the beasts. Over the course of their trek through the Tibetan peaks, inhabited by invisible presences, the two men ponder humankind's place amongst the magnificent creatures and sublime landscapes they encounter.

Alma's Rainbow
A rediscovered treasure of independent cinema, this incisive comedic drama follows Rainbow Gold (Victoria Gabrielle Platt), a teenager coming of age in Brooklyn, as she looks to two vastly different models of womanhood: her straitlaced mother, Alma (Kim Weston-Moran), who runs a hair salon in the parlor of their home and disapproves of her daughter's newfound interest in boys; and her free-spirited, larger-than-life aunt Ruby (Mizan Kirby), who has just returned from Paris after a ten-year absence and whose presence shakes up the household. Bursting with the bold Day-Glo colors of nineties fashion, this dazzling feature from feminist filmmaker and animator Ayoka Chenzira grapples with questions of Black women's sexuality, agency, and self-image from a multigenerational perspective.

The Sounds of Science: Yo La Tengo Plays Jean Painlevé
Featuring an introduction by Yo La Tengo
The mesmerizing, utterly unclassifiable films of Jean Painlevé have to be seen to be believed: delightful, surrealist-influenced dream works that are also serious science. The French filmmaker-scientist-inventor had a decades-spanning career in which he created hundreds of short films on subjects ranging from astronomy to pigeons to, most famously, such marine-life marvels as the seahorse and the sea urchin. Set to an original score—never before available to stream—by indie-rock heroes Yo La Tengo, the suite of eight underwater miniatures presented here captures the strange beauty and wonder of the aquatic world with a Dadaist's eye.
Yo La Tengo's latest album, This Stupid World, will be released on February 10 by Matador Records.

Flaming Ears
A tour de force of DIY visual invention, this underground sci-fi lesbian extravaganza has been newly restored to its Super 8 visual splendor. It's the year 2700 in the fictional burned-out city of Asche, and the lives of three women are about to collide: comic-book artist Spy (Susana Helmayr), sexed-up pyromaniac Volley (Ursula Puerrer), and reptile-obsessed alien Nun (A. Hans Scheirl). What ensues is an anarchic tale of obsession and revenge that critic B. Ruby Rich describes as "the film that J. G. Ballard might have made if he'd been born an Austrian dyke."
Criterion Originals

Spotlight on Within Our Gates
In the latest installment of our Spotlight series, film scholar Racquel J. Gates unpacks Oscar Micheaux's 1920 classic Within Our Gates, a landmark of American silent film that deploys stunning cinematic innovations to tell its story from a Black perspective.
Three Dimensions

Starring Rock Hudson and Doris Day
One of Hollywood's most popular screen couples, Doris Day and Rock Hudson revitalized their careers and the romantic-comedy formula with the 1959 megahit Pillow Talk, delighting audiences with a teasing sexual innuendo that they would deploy to similar success in the follow-ups Lover Come Back and Send Me No Flowers. Though their much-analyzed gender politics would soon be rendered outmoded by the sexual revolution, these soufflé-light bedroom farces endure thanks to their sly wit, colorful production design, and the irresistible chemistry generated by two stars letting loose for some frothy fun.
Pillow Talk, Michael Gordon, 1959
Lover Come Back, Delbert Mann, 1961
Send Me No Flowers, Norman Jewison, 1964
Saturday Matinees

Eleanor's Secret
A boy's newfound ability to read sets his imagination free in this rollicking, sumptuously animated storybook adventure.
Short Films

Lata
A rigorous, uniquely cinematic study of a domestic worker in Mumbai makes visible the lives and labor that so often remain outside the frame.

Safe
On a winter night in Atlantic City, the manager of a defunct casino must reckon with his parental failures when his unruly son comes to him in desperate need of help.
New Additions to Previous Programs

Now Playing in Snow Westerns: The Tall Men
Stunning CinemaScope landscapes, a dynamite cast, and the vigorous direction of Raoul Walsh come together in this gripping portrayal of an epic cattle drive.
Encores
Back by Popular Demand
Don't miss these viewer favorites, returning to the Channel in February!
The Blue Angel, Josef von Sternberg, 1930
Nostalghia, Andrei Tarkovsky, 1983
Complete list of films premiering on the Criterion Channel this month:
All I Desire, Douglas Sirk, 1953
Alma's Rainbow, Ayoka Chenzira, 1994
The Angelic Conversation, Derek Jarman, 1985
Blue, Derek Jarman, 1993
Boy Meets Girl, Leos Carax, 1984
Cane River, Horace Jenkins, 1982
Caravaggio, Derek Jarman, 1986
Criss Cross, Robert Siodmak, 1949
Edward II, Derek Jarman, 1991
Eleanor's Secret, Dominique Monfery, 2009*
Eleanor's Secret: French Version, Dominique Monfery, 2009*
Flaming Ears, A. Hans Scheirl, Dietmar Schipek, and Ursula Pürrer, 1992
The Garden, Derek Jarman, 1990
Glitterbug, Derek Jarman, 1994
Go Tell It on the Mountain, Stan Lathan, 1985
I Am Not Your Negro, Raoul Peck, 2016*
James Baldwin: The Price of the Ticket, Karen Thorsen, 1989
The Killers, Robert Siodmak, 1946
The Last of England, Derek Jarman, 1987
Lata, Alisha Tejpal, 2020
Lover Come Back, Delbert Mann, 1961
Murder in Harlem, Oscar Micheaux, 1935
On-Gaku: Our Sound, Kenji Iwaisawa, 2019
Phantom Lady, Robert Siodmak, 1944
Pillow Talk, Michael Gordon, 1959
Safe, Ian Barling, 2021
Sebastiane, Derek Jarman, 1976
Send Me No Flowers, Norman Jewison, 1964
The Sounds of Science, Jean Painlevé, 2002
The Suspect, Robert Siodmak, 1944
The Tall Men, Raoul Walsh, 1955
The Tarnished Angels, Douglas Sirk, 1957
The Tempest, Derek Jarman, 1979
Thunder on the Hill, Douglas Sirk, 1951
The Velvet Queen, Vincent Munier and Marie Amiguet, 2021*
War Requiem, Derek Jarman, 1989
Wittgenstein, Derek Jarman, 1993
Premiering February 13
Baldwin's Nigger, Horace Ové, 1968
James Baldwin: From Another Place, Sedat Pakay, 1973
Meeting the Man: James Baldwin in Paris, Terence Dixon, 1970
*Available in the U.S. only