Claims of a potential collusion investigation between Synopsys, Inc. (NASDAQ:SNPS) and Huawei Technologies, and Semiconductor Manufacturing International Corp (OTCQX:SIUIF) could be a make-or-break situation due to the national threat issue underlined by the US government. The pertinent question in the minds of investors is why would a $48 billion company do this while knowing the risks involved? Though it does not sound right, the clearance of Synopsys will make the stock bounce back. Synopsys prides itself on the hallmark of the world's most advanced chip design and verification technology. At the core of its silicon production is the delivery of Smart Everything to customers.
Thesis
At the moment, silicon and semiconductor technology are the basis for digital transformation Synopsys continues to enhance its software ecosystem as seen in its strong Q1 2022 earnings that reflected growth in its EDA software provision. The company has witnessed heightened demand for its IP and hardware including semiconductors. With software integrity beating estimates, the company is confident that it will reach the 15% to 20% growth objective in 2022 including multiyear margins. With the outcome of the Fed's investigation on Synopsys still in question, I will explain why this stock is a hold.
Q1 2022 saw Synopsys register a 10.24% increase in revenue to $1.27 billion from $1.152 billion in Q4 2021. GAAP (diluted) EPS also rose 56.7% to $1.99 from $1.27 recorded in October 2021. This revenue surge is a result of heavy investment in unique innovations, targeted apps, and technical differentiation performed over the past 5 years. Synopsys also has a solid cash position at $1.27 billion against a total debt level of $580.60 million.
Synopsys market dynamics
The company also attributed a strong semiconductor market, increasing differentiation in technology and product execution to the strong results. The global semiconductor market that stood at $452.25 billion in 2021 is poised to reach $803.15 billion in 2028 growing at a CAGR of 8.6%. Apart from the increase in consumer electronics consumption, the industry's growth will be boosted by artificial intelligence (AI) adoption, Internet of Things (IoT), and machine learning (ML) technologies.
Except for NVIDIA (NVDA), Synopsys' market cap has far outpaced semiconductor powerhouses in the world such as Taiwan Semiconductor Manufacturing Co (TSM) in the past five years.

Over the past five years, TSM's market cap has grown by 216.75% while NVIDIA is at an upside of 838.35%.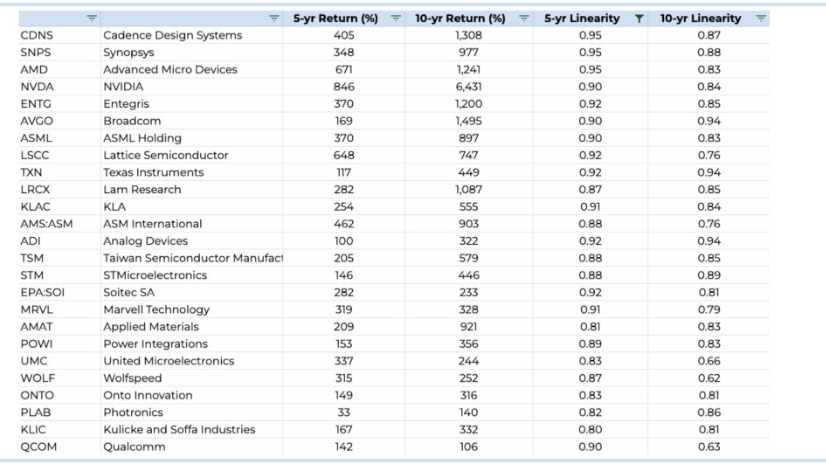 Interestingly, Synopsys' price return over the past five years was more than 310% almost similar to its market cap increase rate. Intel Corporation (INTC) had the slowest growth rate at 12% as the company is still reeling from the supply-related bottlenecks around the production of chips and computers. The companies are seen to be operating on the foundational importance of chips and electronic devices among customers that keep exhibiting recurring positive revenues.
Still, the modern world has seen heavy investments on the part of AI startups and hyper-scalers that prioritize
…
Read More