Amazon is ready to ramp up your productivity, as well as entertainment, with the new Fire Max 11 tablet. The company's thinnest, largest and most powerful tablet to date, the Fire Max 11 has an 11-inch screen and a suite of upgraded features and accessories — including an optional magnetic keyboard and stylus — which should better appeal to business users. And starting at just $230, it's a heck of a deal too.
The new tablet is Amazon's first foray into larger sizes, and according to Kevin Keith, vice president of product management and marketing, it fits the trend the company has seen since the pandemic.
"If you flash back to 2019, the majority of our business was 7-inch devices — and now it's 8 and 10 inches. In fact, our 10-inch segment has more than doubled over the last two years," he says. In addition, the move toward using Fire tablets for things like video calls, email and general multitasking also forced Amazon to reconsider the smaller sizes.
We got a sneak peek of the new Fire Max 11 at one of Amazon's NYC headquarters, though we'll be getting it in soon for a full hands-on review. Here's what you need to know right now about the largest tablet since the original Fire was launched 11 years ago.
The Amazon Fire Max 11 is the biggest, most powerful tablet the company has launched to date. We like its landscape ratio, super-light weight and slim silhouette as well as its shift to favor productivity features like video calls and email.
Amazon Fire Max 11 preorders and availability

The Amazon Fire Max 11 is available for preorder starting today, May 23, for $230 and is set to ship in June. It is available with your choice of 64GB or 128GB storage, and can be paired with the integrated Keyboard Case ($90) and Made for Amazon Stylus Pen ($35) for a bundle price starting at $330. A new Slim Cover, which doubles as a stand, is also available for $50.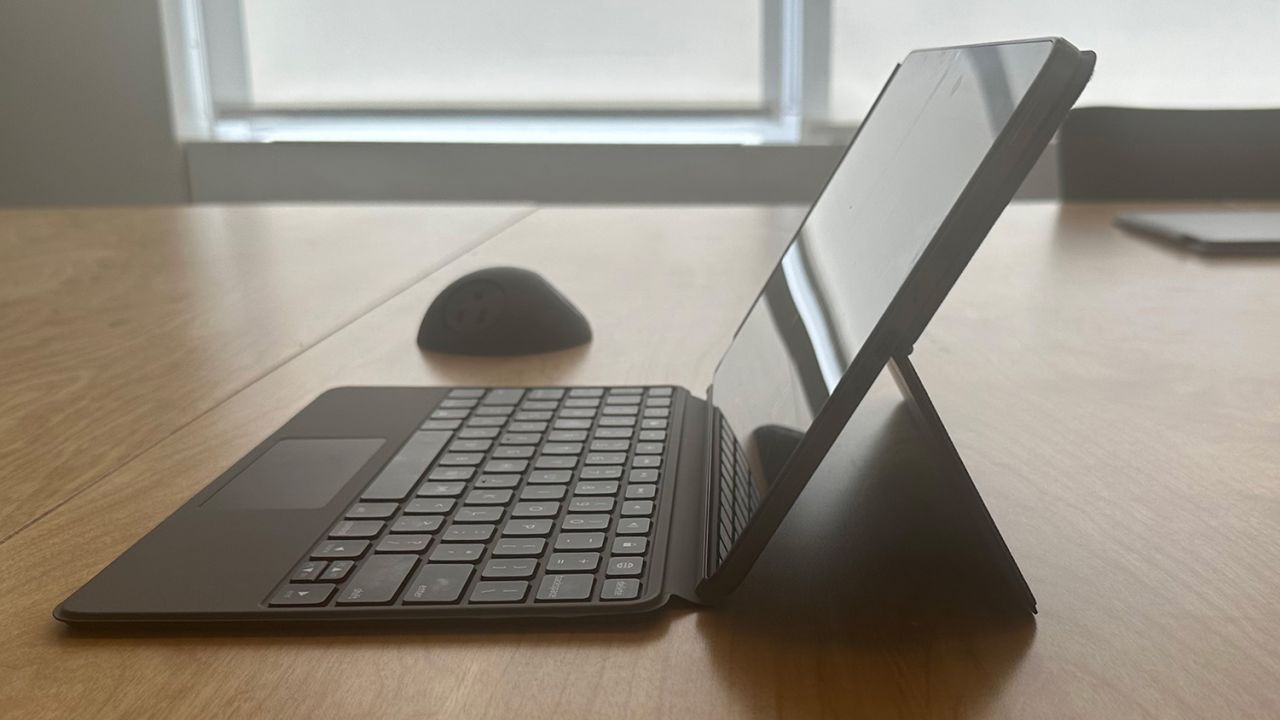 Amazon claims that its Fire tablet is the number-two-selling tablet behind the iPad, and with this new addition, it hopes to compete with other popular hybrid tablets like Microsoft's popular Surface 2-in-1 devices. However, the one thing Amazon understands is value, and with a price tag starting at just $230, the Fire Max 11 is most certainly a deal compared to rivals like the $329 iPad. And, because the back and housing is crafted from aluminum, this larger tablet also happens to be Amazon's lightest — weighing in at just over a pound.
Though we didn't get a chance to play with it ourselves, the specs are encouraging for those looking to combine business with pleasure. The 11-inch rectangular screen covered in strengthened glass is meant to be used horizontally, and comes with 2.4 million pixels (2000 x 1200 resolution) and 410 nits of brightness. It has 8-megapixel front and rear cameras with 1080p HD video recording and rear auto-focus, and fingerprint recognition for a quick unlock. Keith claims the 2.2Ghz octa-core processor and 4GB memory will let the Fire Max 11 run 50% faster than anything the company has shipped yet.
Amazon also claims you'll get about 14 hours of battery life with the Fire Max 11, though again, we won't know for sure until we have it in hand. Other helpful features include dual Dolby Atmos speakers and a USB-C port for external audio. It's Wi-Fi 6 enabled, it has built-in Bluetooth and it comes with either 64GB or 128GB of storage.
Of course, to bring it into the 2-in-1 space, you'll need to add the Keyboard Case — which, like the Microsoft Surface, connects magnetically to the tablet. You can buy the case on its own ($90) or bundle the FIre Max 11 with the Amazon Stylus Pen ($35) for $330, which will save you about $25.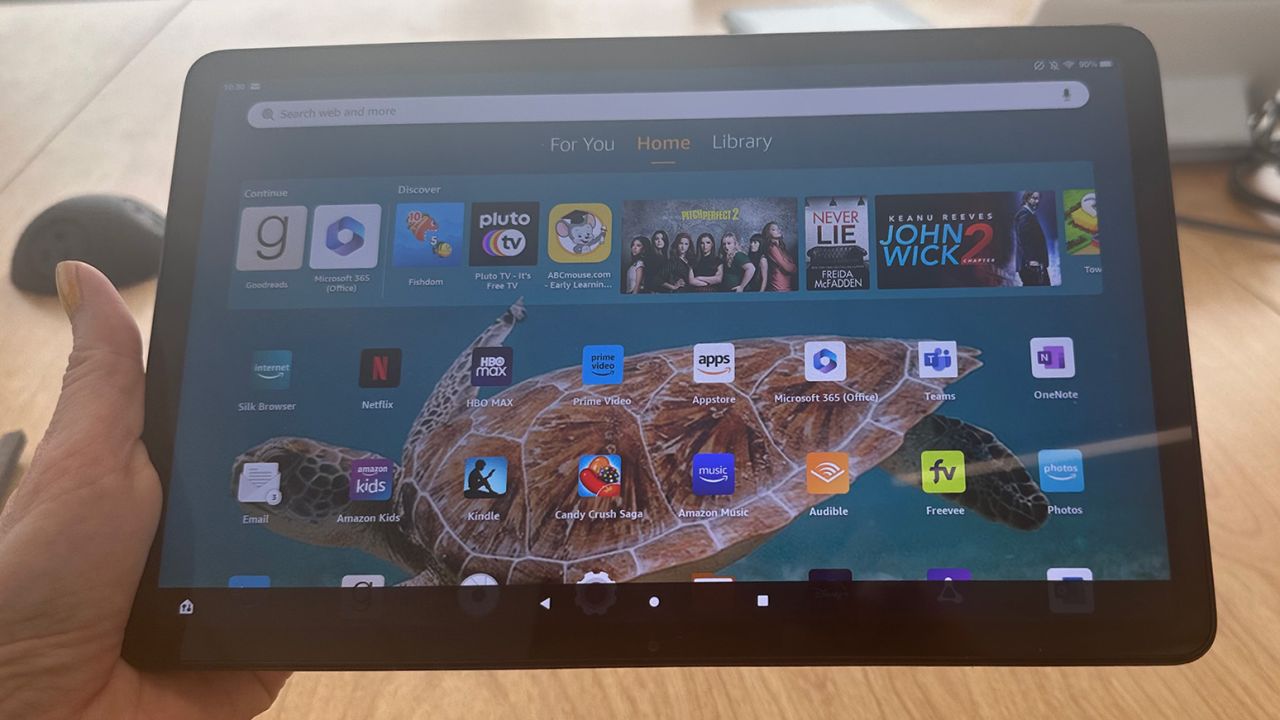 One bummer? Though we appreciate that Amazon's Appstore has high safety standards, heavy Google users will notice that they can't access the Google Play store to download the Google suite of apps — unless you can figure out how to sideload them. You can always integrate your Gmail into Amazon's email client, but nothing will be native. Microsoft users can easily download Office, however, so there's that.
Of course, Amazon's Fire OS still brings the fun to its newest tablet, and you'll have access to all the apps on the Amazon Appstore. So yeah, you'll get Prime Video (of course) along with popular entertainment apps like Disney+, Netflix, Hulu and Max.
Keith also thinks users will appreciate Amazon's content recommendations, which uses machine learning to push you apps it thinks you'll like.
"Because customers use a lot of entertainment on our devices, and there are millions of titles and movies, it's kind of an endless sea of different content," he says. "Now recommendations, not just from us, but also Netflix, Disney+, etc. will surface here. So we're really working with our partners to make sure that it's not just Amazon content. It's all the content that you want, regardless of service."
Another important piece of this puzzle is Amazon Luna, which lets you stream big-name video games to just about any screen via the cloud — and just got a big boost with the addition of Fortnite. So the Fire Max 11 will also let you take all your favorite games with you — without clogging up your memory (though there is an SD card slot, just in case).
Other interesting features include a split-screen mode for easy multitasking, always-on Alexa and access to smart home controls. I also like its ability to switch to Tablet Mode, which, like the newest Google Pixel Tablet, lets you put it anywhere and use it as a smart display when it's not in someone's hands.
Amazon's newest addition to its Fire line of tablets places the Fire Max 11 soundly in the 2-in-1 category — if you decide to add one of the optional accessories like the integrated keyboard case with kickstand ($90). If not, it still seems like a good deal as a stand-alone tablet starting at $230.
Though we haven't put it through its paces, Amazon is serving up a solid contender for a productivity-friendly tablet at a lower price (the company already makes our best tablet pick for folks on a budget), and those invested in the Fire OS probably won't have to think too hard before hitting "Add to Cart." For the rest, time will tell if Amazon can catch up with business users who have already invested in other devices.