Amazon is ready to ramp up your productivity, as well as entertainment, with the new Fire Max 11 tablet. The company's thinnest, largest and most powerful tablet to date, the Fire Max 11 has an 11-inch screen and a suite of upgraded features and accessories — including an optional magnetic keyboard and stylus — which should better appeal to business users. And starting at just $230, it's a heck of a deal too.
The new tablet is Amazon's first foray into larger sizes, and according to Kevin Keith, vice president of product management and marketing, it fits the trend the company has seen since the pandemic.
"If you flash back to 2019, the majority of our business was 7-inch devices — and now it's 8 and 10 inches. In fact, our 10-inch segment has more than doubled over the last two years," he says. In addition, the move toward using Fire tablets for things like video calls, email and general multitasking also forced Amazon to reconsider the smaller sizes.
We got a sneak peek of the new Fire Max 11 at one of Amazon's NYC headquarters, though we'll be getting it in soon for a full hands-on review. Here's what you need to know right now about the largest tablet since the original Fire was launched 11 years ago.
The Amazon Fire Max 11 is the biggest, most powerful tablet the company has launched to date. We like its landscape ratio, super-light weight and slim silhouette as well as its shift to favor productivity features like video calls and email.
Amazon Fire Max 11 preorders and availability

The Amazon Fire Max 11 is available for preorder starting today, May 23, for $230 and is set to ship in June. It is available with your choice of 64GB or 128GB storage, and can be paired with the integrated Keyboard Case ($90) and Made for Amazon Stylus Pen ($35) for a bundle price starting at $330. A new Slim Cover, which doubles as a stand, is also available for $50.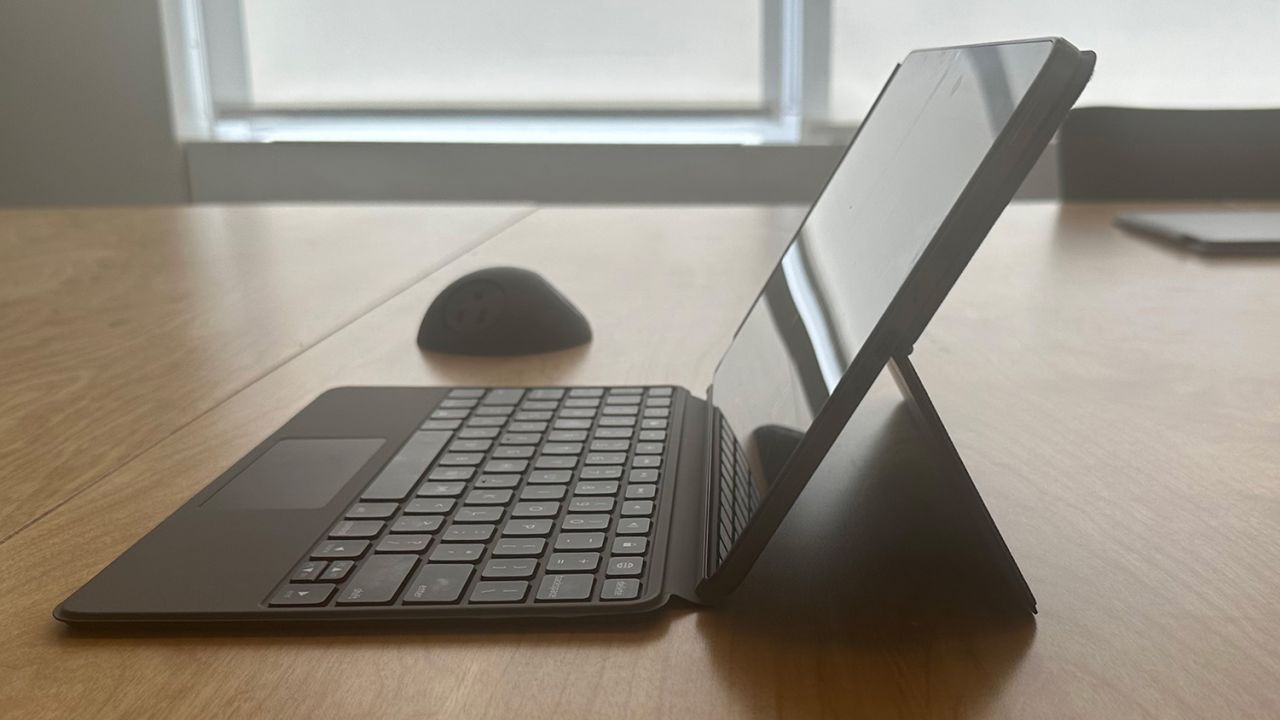 Amazon claims that its Fire tablet is the number-two-selling tablet behind the iPad, and with this new addition, it hopes to compete with other popular hybrid tablets like Microsoft's popular Surface 2-in-1 devices. However, the one thing Amazon understands is value, and with a price tag starting at just $230, the Fire Max 11 is most certainly a deal compared to rivals like the $329 iPad. And, because the back and housing is crafted from aluminum, this larger tablet also happens to be Amazon's lightest — weighing in at just over a pound.
Though we didn't get a chance to play with it ourselves, the specs are encouraging for those looking to combine business with pleasure. The 11-inch rectangular screen covered in strengthened glass is meant to be used horizontally, and comes with 2.4 million pixels (2000 x 1200 resolution) and 410 nits of brightness. It has 8-megapixel front and rear cameras with 1080p HD video recording and rear auto-focus, and
…
Read More