It's been a rough start for the tech heavy NASDAQ in 2022. The media fan favorite benchmark has been on fire in recent years. After gaining over 40% in 2020 despite the outbreak of the COVID crisis, the NASDAQ tacked on another 20% in 2021. And the index was no slouch in the late 2010s, having advanced by more than 65% from 2017 to 2019. So while the New Year is still very young, it is still notable that the NASDAQ Composite Index is off by nearly 5% so far in 2022. Is this stumble out of the gates a fleeting breather, or is it an early sign of what may come for the rest of 2022?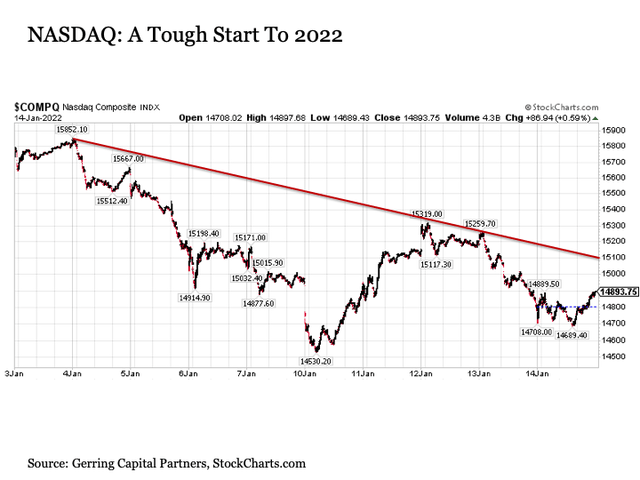 It ain't cool being no tech turkey so close to Thanksgiving. It should be noted at the outset that the recent NASDAQ weakness is not necessarily a 2022 thing. Instead, the slide in the NASDAQ dates back a couple of months to around Thanksgiving. It was right before Thanksgiving that we saw the NASDAQ grind out two successive new all-time highs. But since November 22, the index has been in a marginally downward sloping trading channel with a successive series of lower highs and lower lows.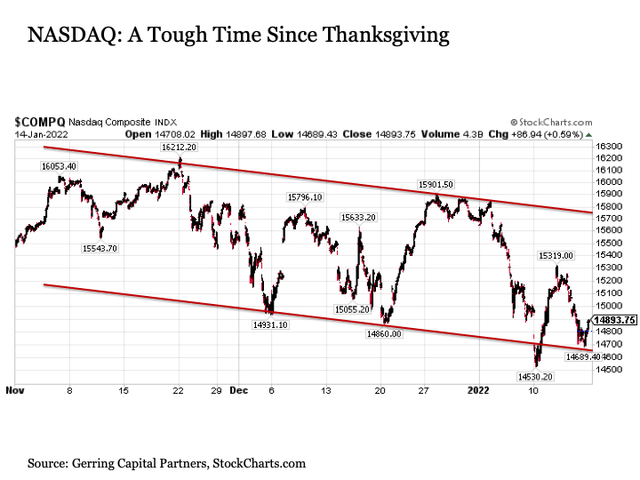 The initial bullish take on the chart above is the following. First of all, the NASDAQ has been a rock star for several years now, so the fact that it has been drifting lower for the last several weeks is a healthy and long overdue period of consolidation if nothing else. And even if the NASDAQ is in a marginal downtrend for the time being, it has just bounced off the bottom of this trading channel and has the potential to rally higher to the 15,300 to 15,600 range over the coming weeks even within this trading range.
NASDAQ uptrend still very much intact. If one zooms out and examines a longer-term view of the NASDAQ, this would provide further support to a still optimistic view on the tech heavy index. For once the NASDAQ broke out above long-term uptrend resistance in the summer of 2020 in the wake of the COVID outbreak, it has been off to the races to the upside since. These are very constructive points in support of the Composite Index.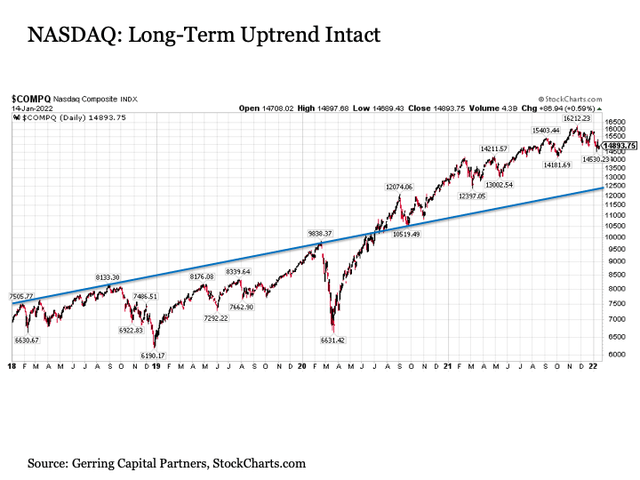 That pesky mean regression thing. This leads us to our first problem confronting the NASDAQ in general and the tech sector in particular (more on this in a minute) as we begin making our way through 2022. Note in the chart above how the NASDAQ kept hitting the upward sloping blue line from 2018 to 2020. Although it deviated meaningfully to the downside over the period from 2018 through the first half of 2020, the NASDAQ would eventually rally and hit this line. And once it broke out above this line in mid-2020, it still came back down to hit it twice before surging higher starting in November 2020. While this surge to
…
Read More