Users of the new Apple MacBook laptops with limited USB-C ports know how important port hubs are to increase the capacity of connections. They can include Ethernet ports, memory card readers, USB-A ports for accessories and more USB-C ports for power delivery.
The latest round of hubs from electronics company Satechi includes the USB-C Pro Hub Mini — something perfect for everyday users at home, in offices or when traveling.
The Pro Hub Mini ($70, satechi.net) is built as an extension of a MacBook's built-in USB-C ports, connecting to the laptop via two USB-C dongles and a 3.5mm audio jack. It gives users a secure connection without the need for drivers or installation software. The device can be easily removed if needed.
Six ports adorn the Pro Hub Mini: a pair of USB-C ports (one with power delivery) and a 3.5mm audio port to compensate for what it takes up with its mounting connection, two USB-A ports and a Gigabit Ethernet port. (Note: Some newer MacBooks have a 3.5mm audio port on the opposite side of the computer's USB-C ports. The Pro Hub Mini's 3.5mm jack can be folded into the device if no audio port is available for connection.)
According to Satechi, one of the Pro Hub Mini's USB-C ports supports up to 6K 60Hz display output and up to 40 Gbps of data transfer. The other USB-C data port and USB-A ports supports up to 5 Gbps. When using the USB-C Pro Hub Mini as power delivery, it provides 96W of charging power, so check the requirements of your computer.
The device measures 3.97-by-1.5-by-0.47 inches and is available in Apple-matching colors of silver or space gray.
Desktop ports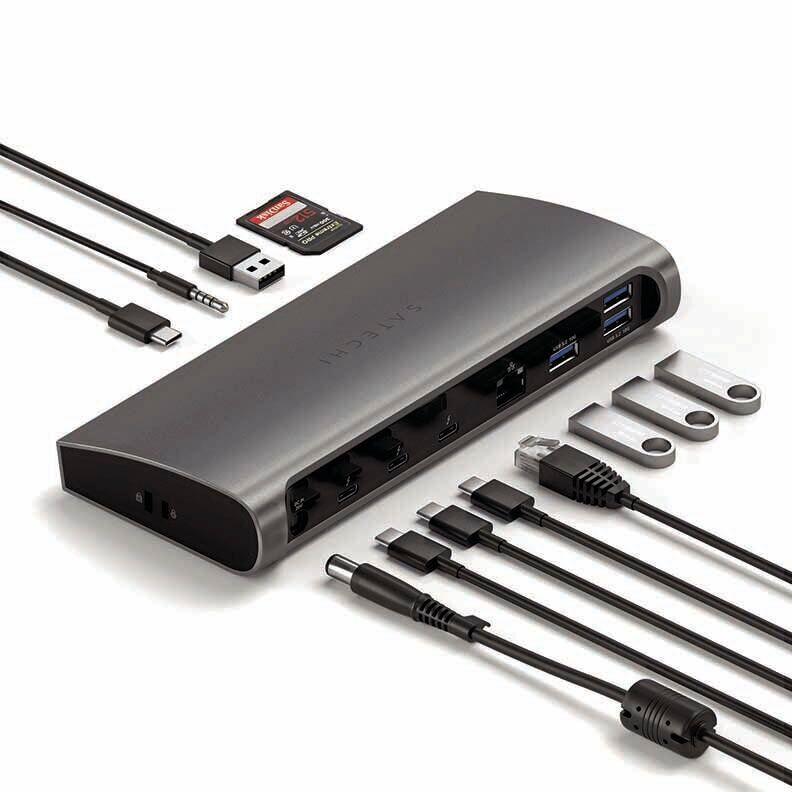 MacBook Pro M1 Max users with Thunderbolt 4 will flourish with Satechi's matching expansion dock. It hooks up to the computer via a single USB-C connection (cable included) and features 11 ports:
Four Thunderbolt 4 ports (capable of up to 40 Gbps data transfer, with one channeling 96W of power delivery)
Four USB-A ports
3.5mm audio jack port
Ethernet port
UHS-II card reader
Additionally, an AC adapter is included to give the Thunderbolt 4 adapter dock an external power boost to run any high-powered peripherals.
USB-C Multimedia M1 adapter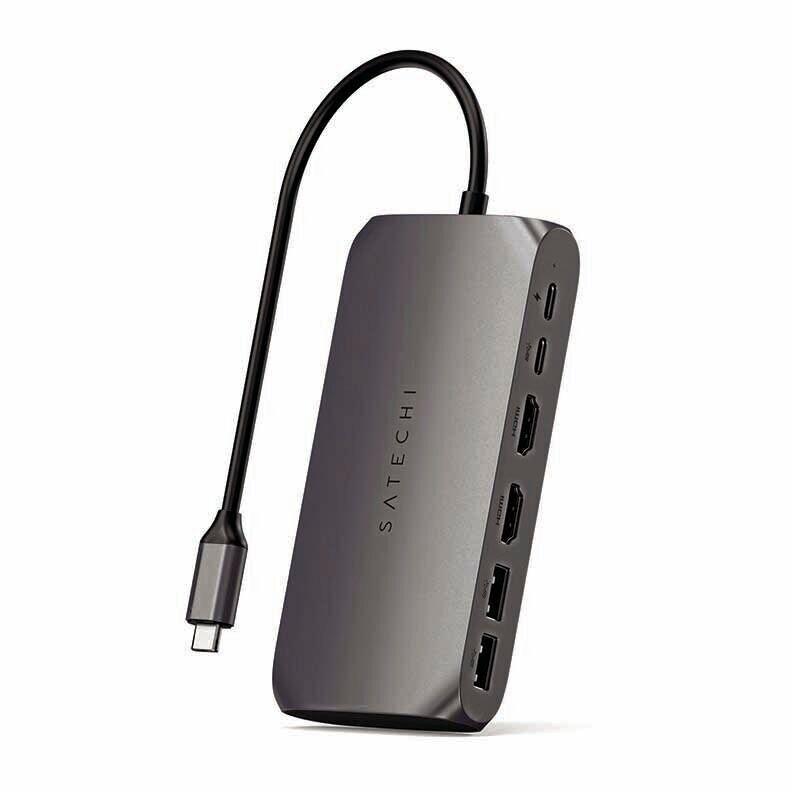 Six ports are in the Satechi USB-C Multimedia M1 adapter, including dual USB-C, dual HDMI 4K HDMI ports (60Hz on one, 30Hz on the other) and two USB-A 3.0 data ports. One USB-C supports charging up to 85W, and the other data port is rated up to 5 Gbps. The adapter connects to a computer's USB-C port through its built-in cable.
USB-C Multiport MX adapter
Satechi's USB-C Multiport MX
…
Read More